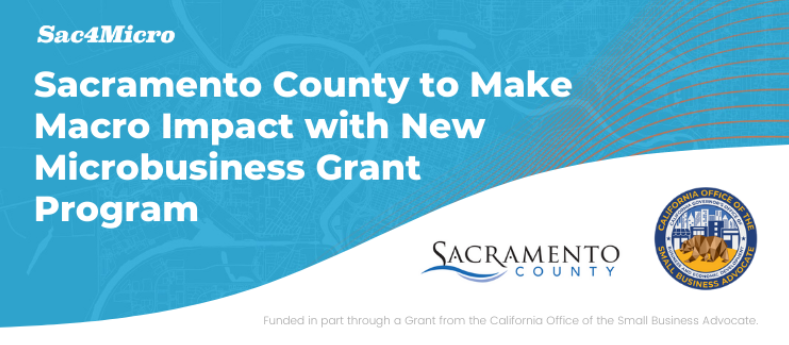 Applications open April 1-29, 2022
Sacramento County encourages microbusinesses in the county that have been adversely affected by the pandemic to apply to receive relief grants of $2,500. The new Microbusiness Grant Program is funded by the State of California's Office of the Small Business Advocate (CalOSBA) and administered by Sacramento County. These new microbusiness grants do not need to be repaid, and the application period will be open April 1-29, 2022.
Often operating as solopreneurs, freelancers and small business owners, a microbusiness typically receives less than $50,000 in revenue annually and has fewer than five full-time employees. Examples of microbusinesses include hair and make-up stylists, interior design professionals, graphic designers, caterers, photographers and event planners. To be eligible, applicants also need to have experienced a 10 percent or greater reduction in revenue in the 2019 to 2020 tax years. A complete list of grant eligibility requirements is available 
on the Sac4Micro website
.
"Sacramento County has more than 52,000 business establishments," said Troy Givans, Director of Sacramento County Office of Economic Development. "Of those businesses, the microbusiness sector makes up approximately 67 percent countywide. The pandemic has been especially hard on our small business community, in particular, our minority-owned businesses. The County is excited to partner with CalOSBA to offer another resource to help the microbusinesses access funding to recover."
Additionally, Sacramento County is partnering with the California Capital Financial Development Corporation, California Hispanic Chambers of Commerce, Sacramento Asian Pacific Chamber of Commerce, Sacramento Black Chamber of Commerce, Sacramento Hispanic Chamber of Commerce, Sacramento Metro Chamber and the Slavic Chamber of Commerce to provide in-language assistance and expand the program's reach into underserved communities.
For more information about Sacramento County's Microbusiness Grant Program, please visit 
www.sac4micro.org
, or for more information about Sacramento County and other resources available, visit Sacramento County's 
Economic Development website
. For more information about the California Small Business COVID-19 Relief Grant Program, please visit 
www.careliefgrant.com
.