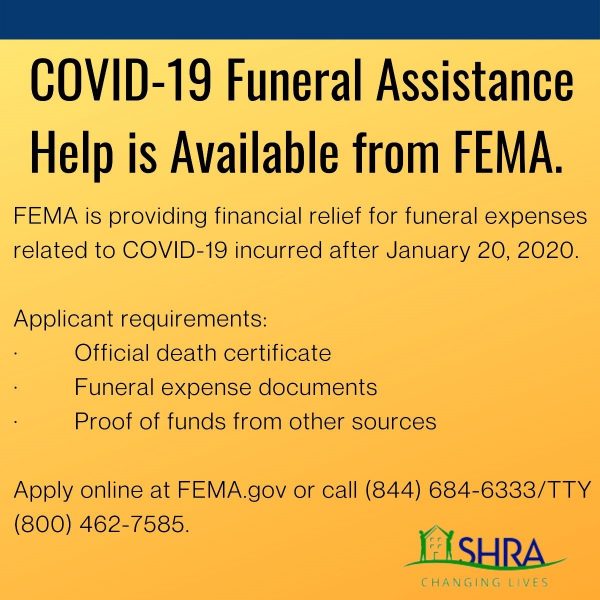 SHRA Opens Application Period on May 11, 2021 for Emergency Rent and Utility Assistance for renters impacted by COVID-19

Sacramento Housing and Redevelopment Agency will open the application period to issue federal and state funds to help low income renters catch up on past due rent and utility payments due to the COVID-19 pandemic.

Applications for the Sacramento Emergency Rental Assistance Phase 2 (SERA 2) Program will be accepted online beginning May 11, 2021 at www.shra.org/sera. Landlords can apply for assistance on behalf of their tenants and tenants may also apply on their own behalf. Applications from February and March are still in process so there is no need to apply again—duplicate applications will not be accepted. Please share this information with your community members, clients and others who may benefit from the SERA 2 program assistance. A flyer in multiple languages is available at www.shra.org/sera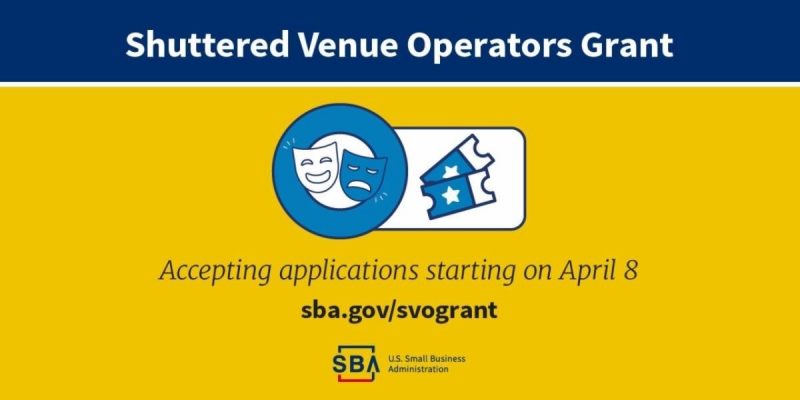 Shuttered Venue Operators Grant
The program includes over $16 billion in grants to shuttered venues, to be administered by SBA's Office of Disaster Assistance.

Eligible applicants may qualify for grants equal to 45% of their gross earned revenue, with the maximum amount available for a single grant award of $10 million. $2 billion is reserved for eligible applications with up to 50 full-time employees.

Eligible entities include:
Live venue operators or promoters
Theatrical producers
Live performing arts organization operators
Relevant museum operators, zoos and aquariums who meet specific criteria
Motion picture theater operators
Talent representatives
A free informational webinar will be held Tues., March 30. Register here.
Response Guidelines for Food Facilities with COVID-19 positive or symptomatic employee.  Click below:
W:\COVID19\PIO\Food Facilities with a COVID-19 Positive or Symptomatic Employee – Response Guidelines 073120.pdf
The Chamber recognizes the impact this outbreak has on small businesses in our region. The following are helpful resources we believe will be beneficial to our small business community. 
We will continue to update these as we receive more information
Get notifications via email, text, cell and landlines in local emergencies
| | |
| --- | --- |
| GovDelivery, Inc. sending on behalf of Sacramento County, CA · 700 H Street, Suite 7650 · Sacramento CA 95814 · 1-800-439-1420 | |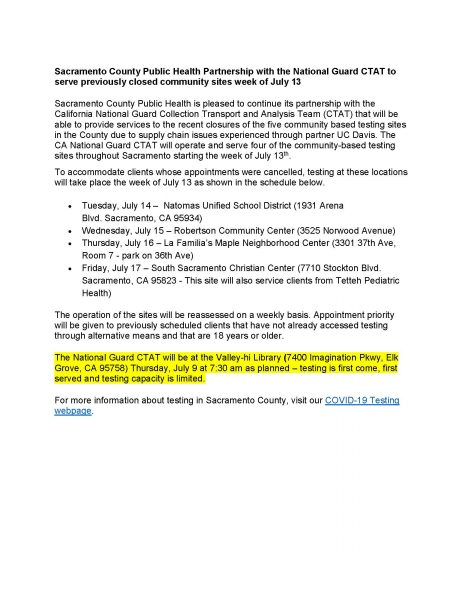 Wells Fargo Reopening the Paycheck Protection Program.

For more information please click link below.
https://update.wf.com/coronavirus/paycheckprotectionprogram/?_ga=2.161578367.215307498.1593629209-1562245096.1593629209

The City Council approved on Tuesday June 30 an additional $5 million in CARES funding for the forgivable loan program bringing the total to $15 million.
The City Council also expanded the program to include all home-based businesses with 1-2 full time employees which would receive a flat rate of $2,500.
The application closes July 13th at 5pm
Health Order Amended; Reminder That In-Home Gatherings Are Prohibited
Public Health Order Amended
Upon the recommendation of the California Department of Public Health and Governor Gavin Newsom, the Sacramento County Public Health Order has been amended to take bars off of the list of allowable activities. The Order goes into effect today, June 29, at 6:00 p.m.
Sacramento County was one of eight counties with a recommendation to close bars, while seven counties were required to close bars.
Additionally, in light of the expiration of the Governor's executive order directive temporarily suspending certain requirements of the plastic bag ban, the County is lifting the ban on using personal reusable bags.
In-Home Gatherings Responsible for Rising COVID-19 Cases
Sacramento County continues to see a day-over-day rise in COVID-19 cases and hospitalizations.
"Through our rigorous contact tracing investigations, we know that many people are transmitting the virus through private, in-home gatherings with family and friends – a situation that most often results in little social distancing, no face coverings and a relaxed atmosphere," said Dr. Peter Beilenson, Director of Health Services.
"Unfortunately, multi-generational family gatherings leave elderly and immune-compromised family members most at risk to complications from COVID-19."
With the 4th of July this weekend, Sacramento County reminds residents that indoor gatherings of any size with people outside of your household are prohibited by both local and state health orders.
For people watching large fireworks displays – please stay in your vehicle and only travel with those you live with.
For questions about the Public Health Order, call the Public Health hotline at (916) 875-2400.
For more information about the County's response to COVID-19, visit Sacramento County's COVID-19 webpage.
Governor Newsom Executive Order: March 19, 2020- Information on critical infrastructure sectors
Small Business Quick Resources:
SBA Emergency Loans: Economic Injury Disaster Loan Program, guidance for businesses and employers, government contracting, and local assistance information is available from the US Small Business Administration.
(Live agent to guide you through the process 1-800-659-2955)
*BID CLOSED* City of Sacramento Emergency Loans: The City of Sacramento has established a $1 million economic relief fund for businesses affected by COVID-19. The fund will provide zero-percent interest loans of up to $25,000 per business.

Donate4Sacramento COVID-19 Regional Response Fund: A new community Response Fund designed to help families, individuals, and businesses receive essential assistance during this time of crisis. The fund is supported and will be administered by the Sierra Health Foundation, United Way and Sacramento Region Community Foundation.
City of Sacramento Tenant Protection Program: Information for moratorium on residential and commercial tenant evictions due to COVID-19. Please note there are separate forms for residential and commercial tenants. Please direct any questions to the Tenant Protection Program office at 916-808-8121 or tpp@cityofsacramento.org.
(Additional resources from the City of Sacramento)
Verizon + LISC's $2.5M COVID-19 Relief Fund – $10K grants for small businesses: Grants of up to $10,000, especially to entrepreneurs of color, women-owned businesses and other enterprises in historically under-served places who don't have access to flexible, affordable capital.
I wanted to share our guide to further support your readers during this time, which you can check it out here:
https://www.reviews.com/jobs-and-education/education/internet-options-for-students/
For those of us working from home or under quarantine for the foreseeable future, a high quality connection remains a top priority expense. For any of your readers with children, there is an even greater demand for internet regarding education and entertainment, alike.
Understanding that much of the country is bracing for the uncertain financial impacts of the coming weeks, our team at Reviews.com created an exhaustive guide to affordable internet access.
We help readers navigate available assistance programs and eligibility requirements while finding low-cost provider options so anyone can stay connected during this time.
Facebook Small Business Grants Program | Boost with Facebook
Paycheck Protection Plan: An SBA loan that helps businesses keep their workforce employed during the Coronavirus (COVID-19) crisis.
Business and Employment Resources
SBA Coronavirus Resources and Guidance for Businesses: SBA Guidance for Businesses and Employers to Plan and Respond to Coronavirus Disease 2019 (COVID-19), such as access to capital, SBA products and resources, exporting assistance, government contracting, and local assistance: 
California Business Coronavirus Resources: The Governor's Office of Business and Economic Development has compiled resources for employers, employees and all Californians for updates on public health, and loan assistance.
California Labor Coronavirus Resources: Labor & Workforce Development Agency compiled information for support services, entitlement, guidelines, and more for employers and employees
Cal/OSHA Coronavirus Resources :Cal/OSHA Guidance on Requirements to Protect Workers from Coronavirus
California Labor Laws during Coronavirus: Coronavirus Disease (COVID-19)- FAQs on laws enforced by the California Labor Commissioner's Office
California EDD Coronavirus Resources: California Employment Development Department (EDD) COVID-19 resources and facts guide for workers and employers impacted by COVID-19
U.S. Department of Labor's (USDOL's) Wage and Hour Division (WHD) Online Dialogue for Paid Family and Medial Leave
General Health Resources
Insurance resources and responses
Health and Public Safety information
Community Resources
Student meals being provided during school closures
Home, School & Remote Work Assistance
At-Home Activities
Other Information
Additional Resources
Contact us for more information or assistance with resources
Help with navigating through paper work for loans and grants:
The Rapid Response Business Triage Hotline at 833-391-1919 is launching today. It will be available 8 a.m. to 4 p.m. Monday through Friday, and it will take messages around the clock for callbacks.
https://www.bizjournals.com/sacramento/news/2020/04/08/local-chambers-launch-business-triage-hotline.html?ana=e_me_set1&j=90503294&t=Morning%20B&mkt_tok=eyJpIjoiTlRFeVpqRmtaakV4TjJRNCIsInQiOiJDa2JWSTRaSjg4XC9CVjd3bWhqTFVibjhhVVZQYXNDMVd3MkhUdExtbTVWNjNJZHZBTHRxXC9XcXZvZHg1dG9QeTF0b2x3Q29EWGRPQ2FnV1QwSFNUTWJPRzUzV1I5R2h2Z05Xb2hwdEZ4YlY2YjArQktNWFdmMkNuUGZtcGpxdm5vTk5UdVc1d0grQjk0OG52MVNWV1hzdz09In0%3D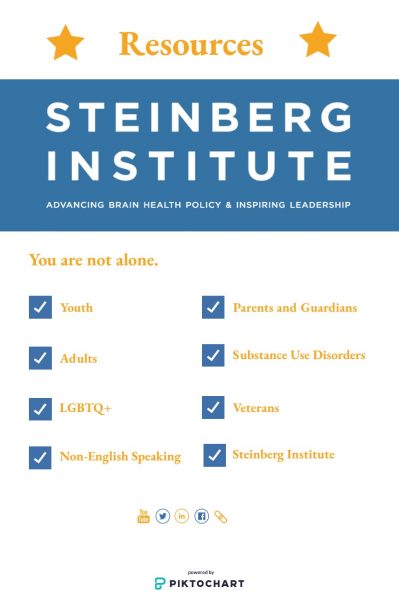 https://create.piktochart.com/output/45757157-steinberg-institute-resource-list
Congress reaches deal on $480 billion package to help small businesses and hospitals, expand testing
Congressional negotiators have reached a deal on a roughly $480 billion relief package that includes hundreds of billions of dollars in new funding for small businesses hurt by the coronavirus outbreak.  The package also includes money for hospitals and expanded COVID-19 testing.
Lawmakers will try to pass it in the Senate at 4 p.m. ET when the chamber convenes for a pro forma session.  Lawmakers will have the opportunity to approve the deal either by unanimous consent or voice vote, meaning most senators would not need to return to Washington, DC, during the pandemic.
The total price tag of the bill is approximately $484 billion. The full legislative text has not available for release.
What's in the new small business relief bill?
A section-by-section analysis shows the deal will authorize the Paycheck Protection Program to spend an additional $310 billion.
Of the $310 billion authorized for the Paycheck Protection Program, $60 billion will be set aside for smaller lending facilities, including "community financial institutions, small insured depository institutions and credit unions with assets less than $10 billion."
There will also be $10 billion for grants under the Emergency Economic Injury Disaster Loan program, $50 billion for disaster recovery loans and $2.1 billion for additional salaries and expenses for the Small Business Administration.
SBA FINANCING FOR SMALL BIZ
COVID 19 RELIEF AND MICRO LOANS
URGENT UPDATE!
MORE FUNDS ARE HERE
Hello Small Business Owner & Freelancers,
I am Gina Lujan, CEO of Hacker Lab. I am also a Norcal SBDC Finance Advisor and a member of the Sacramento Black Chamber. I am partnering up with the Chamber to bring our members SBDC Finance and Business Advice via Norcal SBDC, a subsidiary of the Small Business Administration. If you are a small business owner, sole proprietor, or freelancer, you may be experiencing a financial crisis amongst this pandemic. The SBA and SBDC have been working around the clock to assist people like yourself with PPP and EIDL loans.
NEWS: CONGRESS HAS REACHED AN AGREEMENT FOR MORE FUNDING FOR SMALL BUSINESSES. WE MUST ACT NOW. TIME IS OF THE ESSENCE.
Congress has reached a 360B agreement to assist small businesses. They go for a vote tonight. The last round of funds was gone so quickly. We must act now to get a shot at funding for your business.
Please contact me at advisor@ginalujan.com for immediate assistance and guidance. You MUST fill out this link to get SBDC services from me or any advisor.https://nc.ecenterdirect.com/signup
Fill out these forms and keep on hand.
PPE Form 2483
https://www.sba.gov/sites/default/files/2020-04/PPP-Borrower-Application-Form-Fillable.pdf
SBA FORM 2202
https://www.sba.gov/sites/default/files/2019-09/2202%20Schedule%20of%20Liabilities.pdf
SBA FORM 1368
https://www.sba.gov/sites/default/files/files/serv_da_all_loanapp_5_0_4.pdf
SBA FORM 413D
https://www.sba.gov/sites/default/files/forms/SBA_Form_413_7a-504-SBG.pdf
SBA FORM 4505 T
https://www.sba.gov/sites/default/files/forms/Form_4506-T_FINAL.pdf
Have up to the last 3 years business taxes ready (If 3 years applies)
Last three years personal taxes
Last two years, P&L and Balance Sheets (year to date for this year)
Personal Financial Statement
Business Debt Schedule.
I have a list of banks that are taking noncustomers.  Fundera and Paypal are good nonbank options to try.
I am here to help! Please contact me at any time for help but remember you must sign up for SBDC services first. It takes 5 mins.
Feel free to contact me for SBA small business and microloans for growth and expansion as well. Now is a great time to get a loan. Rates are incredibly low and SBA will pay all principal, interest, and fees for six months on all loans created before 9/30/2020.   visit GinaLujan.com or give me a call at 916.822.2502
– Gina Lujan
Please call SBA Finance Hotline to find your SBA Loan # at 1-800-347-0922
Office of Economic Development
Troy Givans, Director
County Executive
Navdeep S. Gill
700 H Street, Suite 6750  Sacramento, California 95814
www.saccounty.net
May 21, 2020
RE: Face Cover Distribution for Unincorporated County Businesses
Dear valued Sacramento County Business Owner:
Sacramento County recognizes the significant and challenging impacts COVID-19 and the Stay-at-Home orders have created on businesses. Through your continued support, the County has received approval to reopen businesses under the Governor's Stage 2 Reopening Plan. The revised County Public Health Order (PHO) will be released tomorrow, May 22, 2020 and will outline which sectors can move forward with reopening in accordance with State guidelines. Once the PHO is released, it will be effective immediately and businesses can move forward with plans to open as long as all requirements are met. State Guidelines for sector reopening: https://covid19.ca.gov/industry-guidance/
Due to supply shortages, the County has worked with the Governor's Office of Emergency Services to obtain face coverings to assist businesses during the reopening process. The County has a limited quantity available and encourages you to complete your order using the link below as soon as possible. This will be a one-time distribution to offset the time you may need to establish vendor or supply lines to maintain needed supplies for your business. Once your order is placed, our warehouse will contact you to schedule the pick-up of your order.
 Unincorporated businesses, order here: https://www.surveymonkey.com/r/facecover
If you are unable to access the survey you may call 916-562-1562 to place your order.
We wish you much success as you work to open your business safely in the community. Our staff is available at any time, should you have any questions or require clarification.
Respectfully,
Troy Givans
Director of Economic Development

    A New Level of Professionalism
Contact: Fred Jones
530-887-9944
fred.jones@beautyfederation.org
FOR IMMEDIATE RELEASE
CALIFORNIA GOVERNOR NEWSOM CAPITULATES TO PBFC:
AUTHORIZES SALON/BARBER REOPENINGS ON REGIONAL BASIS;
ALTERS 'MONTHS, NOT WEEKS' POSITION TO 'STARTING TODAY'!
May 26, 2020 – Sacramento, CA – The Professional Federation of California (PBFC),
California's only statewide organization that seeks to give voice to nearly 600,00 licensed
professionals and over 53,000 licensed salons and barbershops, view Governor Gavin
Newsom's press statement today on the accelerated reopening of hair salons and
barbershops as a total capitulation to PBFC'S aggressive #OpenSalonsNow campaign.
That PBFC-led effort included a federal court lawsuit, political demonstrations, and major
media coverage all over the state.
In today's live streaming address, Governor Newsom announced that he was moving
forward on accelerating opening salons and barbershops. As a first step, he shared a link to
a message to the salon and barbering industry referring to the Cal/OSHA Interim General
Guidelines on Protecting Workers from COVID-19. https://covid19.ca.gov/pdf/guidancehair-
salons.pdf.
The Governor's announcement deferred ultimate decisions to open to counties, of which 47
have attested they are ready and willing to reopen their businesses. Los Angeles and the
Central/Northern Coastal counties remain unwilling right now.
He remained silent regarding nail and skin care salons/services, as well as beauty colleges,
and therefore the PBFC is moving forward with its 5-page final argument brief due at COB
today. PBFC anticipates a ruling by the Central District of Federal Court (in Los Angeles)
tomorrow or Thursday by the latest.
PBFC legal counsel and lobbyist, Fred Jones, says, "The beauty industry is governed and
managed at the state level. After exhausting our political connections and influence, the
PBFC had no choice but to apply pressure on Governor Newsom via a lawsuit. That clearly
has been an effective strategy, as his announcement today came on the eve of the
anticipated court ruling."
Fred Jones says, "As far as nail salons, estheticians and beauty schools, we won't be
leaving anyone behind. The PBFC, unlike Governor Newsom, doesn't pick winners and
losers in our industry. We stand tall for everyone, equally."
To learn more, visit www.beautyfederation.org.
###